Robert Laplander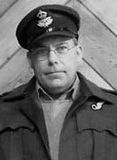 Robert Laplander, USA Tour Guide, Military History Tours Limited.
Robert is the US representative for MHT and is based in Wisconsin, USA. In addition Robert also travels to Europe for MHT to be the expert, lecturer and tour guide for various trips for our American guests. 
Robert is a Professional Development lecturer for the United States military and a featured lecturer working with the command staff of the 78th Training Division, US Army reserve, presenting 'Leadership Lessons Learned from the Lost Battalion' during yearly 'Patriot Warrior' mobilisation exercises. He is also a regular leadership lecturer to the Reserve Officers Training Corps classes of Marquette University, Milwaukee, Wisconsin.
In the 1980s he was a member of the U.S. Marine Corps and previously  he held the post of Executive Officer of Headquarters Company/339th Battalion/Wisconsin Military Cadet program (7th BGD/84th DIV), holding the rank of Captain and was commissioned in this organization for six years.
Recently Robert was the Keynote speaker at the personal behest of the unit commander for the final Dining Out Ceremony of the 77th Sustainment Brigade in September, 2010 prior to their deployment to service in the Middle East.
Previous lecturing experience includes lecturing the 28th infantry Division, U.S. Army Reserve, command staff on the activities of their division in the Meuse-Argonne Offensive during Sept-Oct 1918. He was also the Keynote speaker at the discontinuation ceremony for the 77th Regional Readiness Command, US Army Reserve, in September, 2008 at the personal behest of the Divisional Commander of the 77th RRC. 
Robert is the author of various books relating to the 'Lost Battalion' of the American army during WW1 in France, namely 'Finding the Lost Battalion: Beyond the Rumors, Myths and Legends of America's famous WW1 Epic' and 'The Lost Battalion: Return to the Charlevaux'. Robert has led battlefield tours along the Western Front and specific tours of the Lost Battalion area and was instrumental in erecting a new storyboard dedicated to the Lost Battalion episode at the site of the action in France.
Robert's other great passion is the subject of Prisoners of War, with a primary focus on the RAF,  and Stalag Luft III in particular and is the author of 'Beyond the Wire-Volume 1′. 
Robert holds many military honours and awards and for a full list please see the link to the left of this page.
Robert is married and lives in Tichigan, Wisconsin with his wife and three children.